When applying makeup on your face with the kabuki brush you might have often wondered as to how the brush got its name. Well, kabuki is the name for a classical Japanese dance-drama.
Kabuki theatre is known for its drama style and the complex and intricate makeup worn by some of the artists.
The theatre actors wear detailed makeup which underlines the characters they play.
Rice powder is applied on their face with the brush which makes it distinct and the recognizing feature of kabuki drama.
Now, a kabuki brush is used to apply powdered makeup on face. Kabuki brush is sometimes referred to as a mushroom brush. Generally it has a short stem and soft, fluffy and dense bristles. Though rounded brush head is preferred, there are varieties of shapes and sizes available in the market.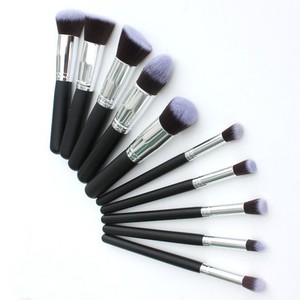 Courtesy-ebay
In ancient times, the bristles used to be made of natural ingredients like horse or goat hair. But now we have the vegan kabuki brush which is also cruelty free of animals. Synthetic materials are used to prepare the bristles.
Kabuki brush is a must have tool for makeup. It seamlessly helps the foundation and the blush powder to merge with the natural color of your face to give you a natural look.
Always shop for a good quality kabuki brush. Not only will it help in easily blending the powder makeup to your face but the brush will also last longer. Remember, a good brush will work wonders on your face.